HubSpot For Manufacturing: The Ultimate Guide
If you're part of a manufacturing business and are looking to adopt HubSpot, or get more from your HubSpot investment, you're in the right place! This resource covers everything you need to know about HubSpot and how it will help your manufacturing business.
Manufacturing businesses today face the challenge of managing a complex customer journey that involves multiple touchpoints across multiple channels. HubSpot offers an all-in-one solution that helps manufacturers to streamline the customer journey from start to finish. The platform provides a central hub for managing customer interactions, tracking leads, and nurturing prospects through the entire sales cycle. In addition, HubSpot enables manufacturers to create a seamless omnichannel experience for their customers.
With HubSpot, manufacturers can provide their customers with a consistent experience whether they are interacting with the brand on-site, in search engines or through social media. As a result, HubSpot helps manufacturers to increase sales, improve customer loyalty, and build a competitive advantage.
So, let's dive in!
Table of contents
Helping manufacturers attract their target audience with HubSpot
Using HubSpot to increase sales conversion rates
How manufacturers can use HubSpot to delight customers
Transforming the way manufacturers look at sales and marketing
Integrating HubSpot with manufacturing software
Why work with a HubSpot Solutions Partner?
HubSpot is the perfect place for manufacturers to store customer data
At the centre of every manufacturing organisation is its database of customers, prospects, distributors and suppliers. This data is the lifeblood of the business and using this in the correct way will help any manufacturing company meet its sales and marketing objectives.
However, in order to use it correctly, the data must be stored in a secure, centralised system which feeds sales, marketing and production.
HubSpot's software is built around a tried and tested CRM (customer relationship management) system that feeds every other part of the software.
Marketing teams can create email lists, segment data, track leads and measure marketing results.
Salespeople can contact prospects, manage deals, create contracts and record customer information.
Service and production teams can monitor job progress, review contracts, contact clients and suppliers and have access to exactly what the customer has been sold by sales.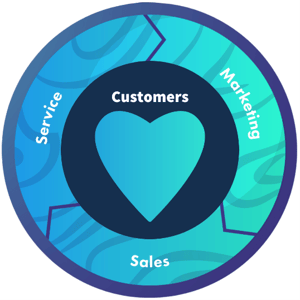 This centralised hub of data means everyone has a single source of truth to work from, helping to bring together marketing, sales and service teams to provide customers and prospects with a better experience.
On top of this, the CRM can be linked with other, typically siloed systems such as a website. This means manufacturers gain additional visibility into which content and pages customers and prospects are looking at! That's something we'll touch on later in this article.
HubSpot's CRM really is top of its class for many reasons and is currently a market leader according to G2.
How is data stored in HubSpot?
There is a very simple structure to the way customer and prospect data is stored in HubSpot. The below graphic demonstrates this.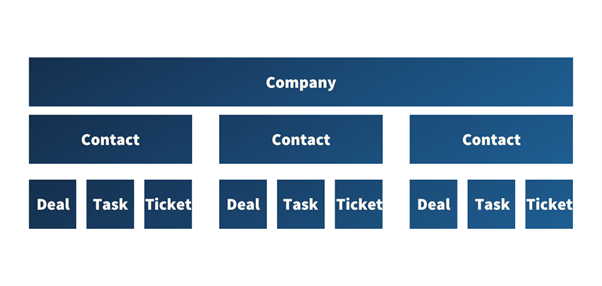 Contacts are directly linked to companies. Deals, tasks and tickets can then be linked to both meaning manufacturers get a complete picture of everything happening with their clients and prospects.
Additional information on managing customer data within HubSpot:
Manging your database in HubSpot
HubSpot cloud infrastructure FAQs
4 key benefits of a CRM system
HubSpot helps manufacturers attract their target audience
Manufacturing businesses are often selling complex solutions into niche markets with a finite number of businesses to sell to. That means every possible opportunity is precious. It also means manufacturers need to focus their marketing efforts (and budgets) into the areas of the market that have a requirement for their solution.
HubSpot's software helps manufacturers focus on their target market and brings the results of all marketing campaigns together in one place. To make this easier to explain, let's split it out into typical channels.
HubSpot Improves SEO For Manufacturers
SEO is a huge part of any manufacturing marketing campaign. Being one of the first to appear for chosen terms can be the difference between gaining new customers and losing out to the competition. SEO was also voted one of the top three most successful marketing activities in The Marketing In Manufacturing Report.
Once upon a time, improving SEO meant focusing on cramming keywords into website pages. Now, good SEO practice is to write for humans as opposed to search engines but structure content to form topic clusters or pillars of content.
A topic cluster is a collection of pieces of content all focusing on one topic area. This often consists of a more substantial piece of content which covers every area of the topic at a top level (also known as a pillar page) and a selection of surrounding content which delves deeper into the different areas of that topic (also known as cluster content).
This method of structuring content is proven to have a significant, positive effect on search engine rankings. Intergage client MAT Foundry has seen a 351% increase in organic traffic from structuring content to form topic clusters.
HubSpot's software makes it easy for manufacturers to plan, create and structure content for SEO success. HubSpot's content strategy tool allows marketers to build pillars of content around core topics to improve search engine rankings. The software also provides monthly search data so manufacturers can estimate how content will impact organic traffic gains.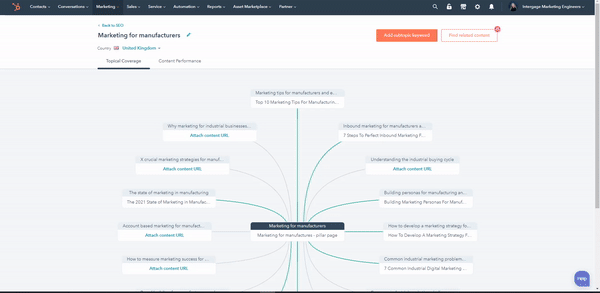 On top of this, HubSpot provides SEO recommendations for every page and blog created, meaning manufacturers can ensure each and every piece of content is optimised as well as it can be for search engines.
Useful HubSpot SEO links:
How to create topic clusters for SEO in HubSpot
Learn how boosting SEO will affect your revenue
The ultimate guide to SEO in 2022
SEO services for manufacturers
3 reasons why your competition is beating you in search engines
Manufacturers Can Manage Their Ads In HubSpot
Digital advertising can be a great fast-track to a manufacturers target audience. Channels such as LinkedIn, Google and Facebook all make it easy to create an audience and show them ads for products and service that could help solve their challenges. Over half of manufacturers currently use digital advertising of some form (The Marketing In Manufacturing Report).
However, running digital ads can be expensive and it can be difficult to bring the data from different channels together to measure ROI.
That's where HubSpot's ad management features comes in…
By connecting and managing ad accounts from within HubSpot, manufacturers have the power to bring typically siloed networks together so ROI, ad creatives and bids can all be managed in one place. Doing this means industrial marketers can monitor exactly which ads, keywords and campaigns are driving new leads and how different channels work together to generate results.
It also makes it much easier to manage and reallocate budget to the campaigns and channels that are driving the best results.
Other useful links:
Google Ads services for manufacturers
Analysing ad campaigns in HubSpot
Creating ads audiences in HubSpot
HubSpot helps build a social presence
85% of manufacturing companies use social media to assist with content marketing. 79% of those voted LinkedIn as the platform that delivered best results (CMI).
Whether it's a core part of a CSR strategy or a key cog in the lead generation production line, social media has a huge impact. It generates traffic, drives engagement, builds trust and helps support search engine rankings.
Similar to HubSpot's ads management software, its social media tools mean manufacturers can create, publish and monitor content across multiple social media platforms and profiles. Manufacturers can connect their Facebook, Instagram, Twitter, LinkedIn and YouTube accounts and manage them under a single tool. These tools also make it much easier to connect with prospects and have conversations. Social media mentions and streams across platforms can all be managed in one place, so marketers don't have to worry about important interactions slipping through the cracks.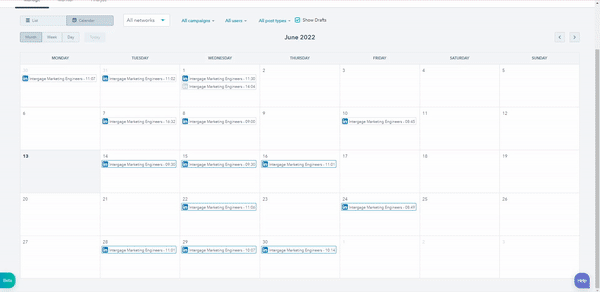 Social reporting also means marketers can keep clear track of which posts are being interacted with and which are producing new contacts and leads – it gives social media a level of accountability that can be difficult to achieve without a platform such as HubSpot.
As an added bonus, manufacturers can manage competitor streams in HubSpot too! By adding a list of three competitors, industrial marketers can monitor what their rivals are posting on social channels as well as how much engagement they're getting in comparison.
Resources for managing social media accounts in HubSpot:
Connecting your social media accounts to HubSpot
The ultimate guide to social media marketing
Managing social media through HubSpot
Social media services for manufacturers
Manufacturers can enhance their email marketing with HubSpot
While manufacturers often target incredibly niche markets, there's one thing all of those markets (and personas) have in common. They use email as a major communication platform. It can be both a blessing and a curse. It's a guaranteed way of getting in front of the target market. On the other hand, 333 billion emails are sent and received every day. Manufacturers need to create strong messaging and deliver this to the relevant people at the right time to be noticed.
HubSpot's email marketing software allows manufacturers to treat subscribers like people. With easy personalisation tools, optimisation suggestions and simple drag and drop functionality, marketers can create beautiful emails that generate results. The easy to use drag and drop editor means there's no requirement for learning how to code and marketers can be safe in the knowledge that their email deliverability will be high.
Building email lists is just as easy. As all of HubSpot's marketing tools are powered by its CRM, manufacturers can segment, collate and manage email lists all in one platform. That means emails can be sent to subscribers depending on which content they've viewed, which products they've been interested in previously and where they are in their buying journey. Manufacturers can deliver the right message at the right time to the right people.
Useful HubSpot email links:
Creating marketing emails in HubSpot's drag and drop email editor
How to build an email list from scratch
Maximise your email marketing with A/B testing
Manufacturing marketing campaigns can be managed in HubSpot
Manufacturers will be used to marketing to various different personas within a business across a wide timescale before ever actually getting to speak to the prospect. During this time, prospects and clients are likely to engage with the business on more than one platform and at multiple points in their journey. As we know, B2B marketing is very rarely linear! The below graphic from HubSpot gives an idea as to what a typical B2B buyer's journey looks like.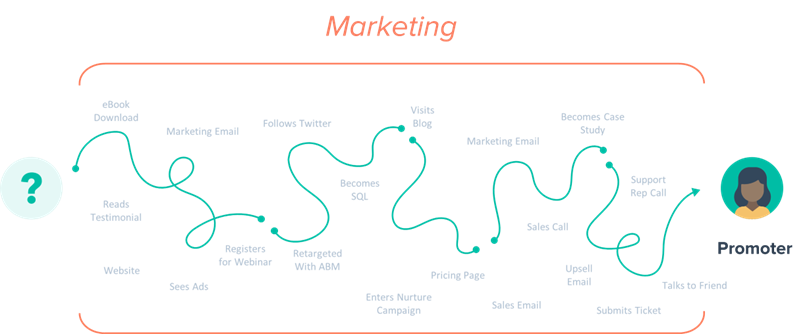 This can make it incredibly difficult for marketers to keep track of which elements of their campaigns are driving results. With blog pages, website pages, social media posts, whitepapers, emails all contributing to a final result, there is a lot to keep track of and each of those elements should play a part in driving results in some way.
Pulling everything under one campaign not only makes it easier to manage activity, but it also means manufacturers can track and report on campaigns with one source of data. This minimises the time it takes for marketers to gather data from various resources, build dashboards and report on ROI.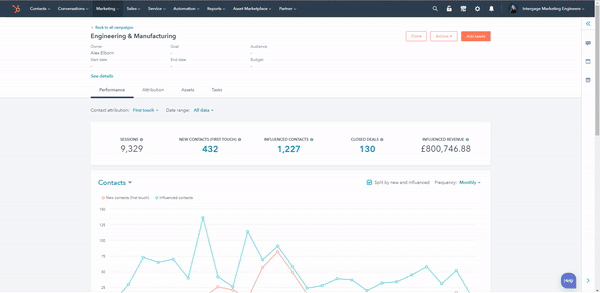 How does this boost results? Clearer reporting and a more aligned approach to marketing campaigns has a direct impact on results. HubSpot customers* who use the software's campaign analytics generated an average of 72% more new leads than those who don't.
*Marketing Hub Professional and Enterprise customers only.
The basics of a marketing campaign
Every marketing campaign is made up of a series of elements to help turn cold contacts into prospects, providing users with the means to cross the anonymity threshold so manufacturers can market to and nurture them.
The average manufacturing marketing campaign will contain any of the following:
Blog articles/thought leadership content to answer common user questions
Calls to action
Landing pages
Forms
Some kind of gated content/offer
A CRM system to capture prospect data.
Together, these tools allow manufacturers to target audiences based on what they're searching for with thought leadership content. This content usually contains a call to action which takes prospects to a landing page containing some kind of offer or gated content. The unknown user is then required to submit their details into a form to access that offer or gated content. That contact data should then be fed automatically into a database such as a CRM system.
As you can see, there are many elements to creating a marketing campaign. HubSpot provides manufacturers with a single tool to manage all of this which is pulled together in the campaigns part of the software.
Other helpful links when it comes to building and managing marketing campaigns for manufacturers:
7 steps to the perfect inbound marketing campaign for manufacturers
The joy of a single campaign view
Manufacturers can create killer websites in HubSpot's CMS
A website is a manufacturer's online salesperson and usually, the first thing a prospect will look at as a credibility check. It's the centre of a business' marketing universe and yet - all too often - is left to fester, unattended. Why?
They're difficult to update
Manufacturers often don't have website development skills in-house
The site never gets found in search engines
They don't add value to the buyer's journey.
Manufacturers are missing out on valuable opportunities when coming up against these hurdles.
That's where HubSpot's CMS comes in.
HubSpot's CMS (content management system) is an all-in-one platform that combines a single source of truth, intuitive UX and a unified codebase.
In layman's terms, marketers can create personalised buyer experiences in an easy-to-use platform without needing support from a website developer.
HubSpot's marketplace is full of pre-made themes and templates that put the power back in the marketer's hands. Manufacturers can design and build websites quickly on a codeless platform. In fact, we recently helped an industry leading manufacturer build a new website using HubSpot CMS within five weeks!

That fact that the system is built on a unified codebase also means manufacturers don't need to worry about regular plugin updates like with platforms such as Wordpress. These themes are tried and tested meaning marketers can be safe in the knowledge they will provide a great user experience.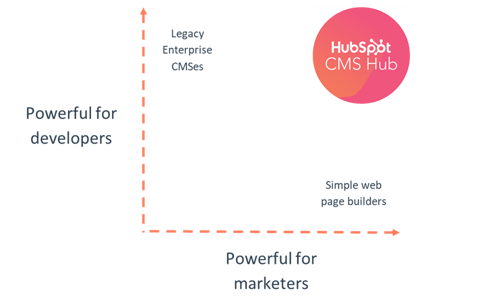 (HubSpot)
The fact that HubSpot websites are also connected to the world-class CRM means marketers can go one step further to making that experience memorable. HubSpot websites can be customised to address prospects directly and can change depending on which content a prospect has viewed, what lists they are part of and even what they have purchased in the past. It's the perfect way to deliver a personalised and contextual experience using joined-up systems.
On top of this, manufacturers can be safe in the knowledge that their website is fast, secure and reliable. HubSpot websites are guaranteed to have:
99% uptime
24x7 infrastructure support
Web application firewall
HTTPS and SSL certificate support
Routine vulnerability scanning
Multiple geographic footprints.
More helpful links on HubSpot's CMS
HubSpot website services for manufacturers
HubSpot helps manufacturers increase sales conversion rates
Every manufacturing business wants to generate more sales. However, more often than not, businesses focus on pouring more leads in at the top of the funnel in the hope that they will convert into business. Where the real difference can be made is by increasing conversion rates, so more leads turn into opportunities and more opportunities turn into sales. Incremental increases at each stage of the journey are the key.
So, how can HubSpot help manufacturers increase conversion rates while saving the time of salespeople and marketers?
HubSpot's marketing automation software is perfect for manufacturers
The challenges of the current economic environment have made it essential for manufacturers to find ways to reduce costs and improve efficiency. Many companies are turning to automation as a way to meet these challenges, whether this is using automation to improve production efficiency or managing back-office processes with an ERP system. In short, automation is not a new concept for manufacturers.
However, it is a relatively new practice for manufacturers when it comes to sales and marketing automation. Like a production line, sales and marketing become more cost effective, efficient and drive better results by using software such as HubSpot to automate processes.
HubSpot's automation tools allow manufacturers to save time, scale growth and ultimately, close more deals as a result. Leads that aren't quite ready to buy yet can be nurtured on autopilot and passed to sales when they're prepared. Existing customers can also be educated and informed on the products they've purchased while they're in production. In addition, sales tasks and follow up can be automated to ensure no opportunities slip through the cracks and salespeople are only dealing with prospects that are well and truly ready to buy.
This blog also outlines how marketing automation can improve marketing and sales processes for manufacturers. Using software such as HubSpot means manufacturers need to have a good handle on their buyer personas, lead scoring and reporting. Those who don't will find onboarding onto HubSpot a therapeutic process as the software guides manufacturers through laying the foundations for marketing success.
Here are some other useful articles relating to marketing automation:
Marketing automation for manufacturers
Creating automation workflows in HubSpot
6 HubSpot workflows every manufacturing business needs
Marketing automation services for manufacturers
Marketing automation for manufacturers
HubSpot sets the foundation for a great marketing strategy
We've worked with manufacturing businesses for more than 20 years and have seen the good, the bad and the ugly when it comes to marketing strategy. However, what's most alarming is the number of manufacturing businesses who simply don't have a marketing strategy.
A true marketing strategy relies on a manufacturing business:
knowing their target market inside out and having documented buyer personas
having a clear strategy and objectives
understanding exactly what makes them different from the competition
having defined mission, vision and values
understanding what their ICP (ideal customer profile) looks like.
With even just one of these elements missing, manufacturers will struggle to formulate a successful marketing strategy and find themselves in the middle of a series of random, uncoordinated explosions of marketing activity.
So, how does HubSpot help?
At each stage of the onboarding process, HubSpot helps manufacturers tackle the above stages. HubSpot Solutions Partners such as Intergage will help guide manufacturers through a series of consultancy sessions and workshops to ensure the foundations of a successful marketing strategy are set. HubSpot's software also encourages users to input details such as a contacts persona type, business sales and marketing objectives and company industry.
HubSpot can help manufacturers with sales and marketing alignment
Sales and marketing is a function of several conversion points which push cold leads through to closed sales. Typically, it looks something like this:
cold prospect – lead
lead – meeting
meeting – opportunity
opportunity – sales.
When these two departments are working in sync together, they can create a powerful engine for growth by making incremental improvements at each stage of the sales and marketing process.
However, it's common in manufacturing firms for there to be misalignments between sales and marketing. Often, these departments have different goals, processes and motivations and the people within them have different priorities and personalities.
So, what is sales and marketing alignment?
Sales and marketing alignment is the procedure of unifying an organisation's people, technology and processes to help streamline its sales and marketing activity. By synchronising the two departments, they'll work towards one common goal – to increase lead generation and sales!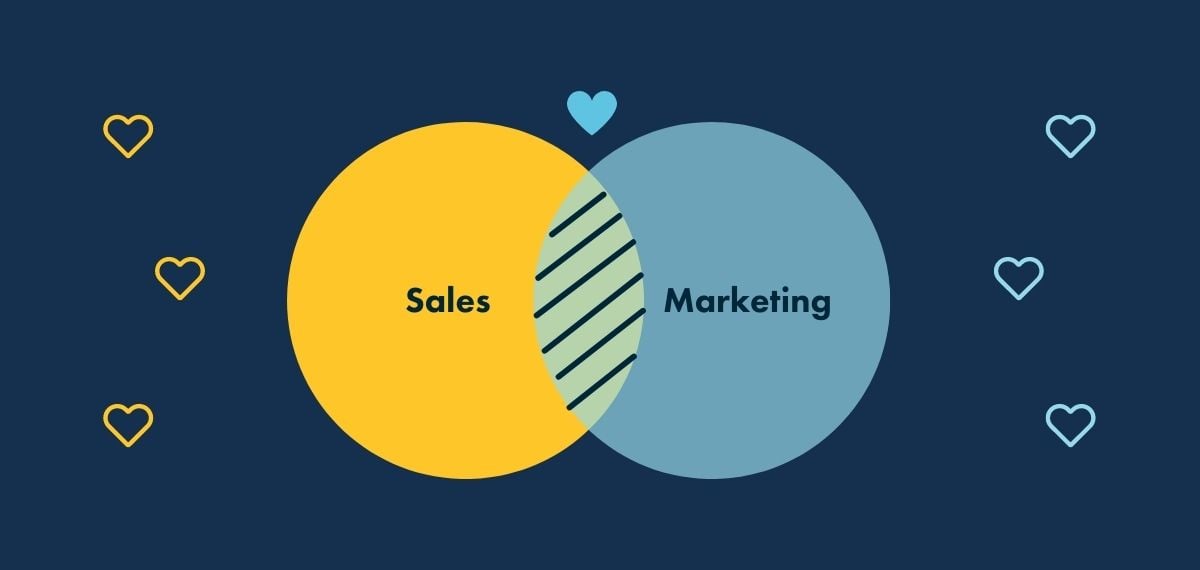 HubSpot helps manufacturers align their sales and marketing teams in a number of ways:
It provides sales and marketing with a single source of data to work from meaning everyone is fully informed and can follow leads through their journey between sales and marketing.
HubSpot also provides manufacturers with an opportunity to completely review and align their sales and marketing processes. Adopting a new technology is the perfect time to review how leads are passed between sales and marketing, what sales pipeline stages should be, what defines a qualified lead, and how leads should be followed up. We often find that misalignment between sales and marketing exists simply because everyone isn't speaking the same language. HubSpot can help eradicate those issues during the onboarding stage.
HubSpot's reporting tools mean sales and marketers can understand what's working and what's not, so they can come together as a team to review and solve challenges based on data.
Other sales and marketing alignment links for manufacturers:
The manufacturers guide to sales and marketing alignment
The surprisingly huge ROI of sales and marketing alignment
Free sales and marketing alignment resources
Manufacturers can build chat bots with HubSpot
Imagine having a member of staff that works 24 hours a day, 7 days a week helping to answer common prospect questions. Sounds like a dream come true, right?
HubSpot's chat bot functionality makes all of this possible. Chat bots can be built to help answer questions that would usually take up a salesperson's time. They act as a middleman between pre-qualified prospects and those who are ready to speak to sales, providing a seamless method of communication. Furthermore, engagement with chat bots is significantly higher than other more traditional forms of marketing. For example, emails generate an average click-through rate of 5% - 10% compared to a whopping 15% to 60% from chat bots (Walter Chu).
Many people have a misconception that chat bots are complicated to set up and require specialist coding skills. That's not the case with HubSpot's software. The intuitive bot builder means anyone can build a bot including personalisation, multiple choice answers and the ability to transfer a prospect to a real human through live chat.
Take a look at our very own chat bot, Interbot! They're on our website to help prospects find the information they're looking for about HubSpot!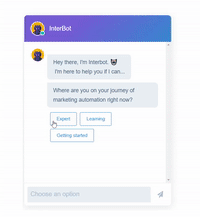 HubSpot's chat bot builder is the perfect way for manufacturers to keep in touch with clients and prospects on their terms, improving conversion rates and again, ensuring that no opportunities slip through the cracks.
Creating a chat bot in HubSpot
18 examples of chatbots for customer service
Why chatbots are the future of marketing
HubSpot helps manufacturers automate sales tasks
While it's important to deliver tailored messaging to each and every prospect, there's no getting away from the fact that some sales activity is repetitive. Whether it's answering common questions, following up on proposals or sending out quotations, there is always some messaging that is rinsed and repeated.
HubSpot's template tools allow manufacturing salespeople to create email models that can be used time and time again. These templates can also be grouped together to create sequences.
HubSpot's sequences are also a brilliant way to automate sales follow up by creating playbooks of automated emails and tasks. Not only does this save time, but it also means no leads will slip through the cracks. Sequences can be set up, monitored and improved to generate the best results. And better still? All of this can be done on autopilot, so salespeople spend less time following up and more time closing deals - all while achieving better response rates!
Just like HubSpot's email marketing tools, sequences can be personalised to deliver a tailored message from templated pieces of content, so salespeople can increase response rate by learning what messaging works best. It's a win-win – salespeople save time and prospects are followed up in the most efficient, timely way!
Sales automation: The ultimate guide
How to use automation to keep a tight sales pipeline
37 tasks every marketer should automate
HubSpot helps manufacturers delight customers
65% of a company's business typically comes from existing customers (Forbes). A manufacturer's existing customer base holds the key to true growth and while attracting new leads is a crucial part of marketing, it is only equal to delighting existing customers.
HubSpot's marketing, sales and service platforms provide manufacturers with all the tools needed to go above and beyond for customers. We now know that HubSpot provides teams with a single source of truth, and this means they are able to:
build deeper relationships with customers by providing the right content at the right time
collect customer feedback easily
get in touch with the relevant teams in multiple ways.
Manufacturers can improve customer service with HubSpot live chat
Similar to chatbots, live chat provides customers with a simple way of getting in touch with manufacturing businesses without the need to pick up the phone. It's the perfect balance between email and telephone support, meaning customers can get the information they want while sales and service teams remain productive. In fact, 73% of customers find live chat the most satisfactory form of communication with a company.
Anyone who's ever called a customer service line will know the feeling of frustration that comes from being put on hold for what feels like forever. Fortunately, there's a solution that can help businesses speed up the process of connecting customers with the right person to help them: HubSpot's live chat. With this tool, businesses can quickly and easily route customers to the right team member, whether it's sales, marketing, or customer service. This not only saves the customer from having to wait on hold, but it also helps to ensure that they get the assistance they need as quickly as possible. In today's fast-paced world, speed is everything. With HubSpot's live chat, businesses can provide their customers with the quick and efficient service they need and expect.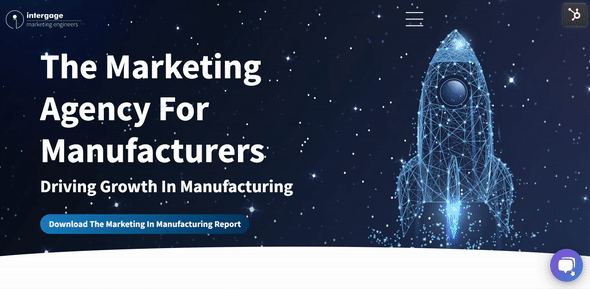 Like all of HubSpot's tools, the live chat functionality is easy to set up and manage. Welcome messages can be personalised and team availability is flexible, meaning manufacturers have complete control over when live chat is available.
All messages are fed into the centralised CRM and can be sent to individual, or group inboxes set up within the system. Chats can then be reassigned to different members of the team, providing an easy way to reroute clients to the relevant team member.
Chat history is also stored within the system and chat transcripts can be automatically sent to clients for their own records!
HubSpot's live chat really is a brilliant way for manufacturers to instantly improve customer service levels.
HubSpot's customer feedback tools
You can have all the reporting and analytics you like, but without asking for regular customer feedback, you'll never be able to gauge how truly happy your customers are. Only one in 26 customers will bring up their complaints of their own accord so its crucial manufacturers provide them with a method of communication to give valuable feedback to both improve services and solidify positive change.
HubSpot's service Hub equips manufacturers with several tools to make this possible.
Firstly, manufacturers can create and send NPS (Net Promoter Score), CES (Customer Effort Score) and CSAT (Customer Satisfaction) surveys. This is a brilliant way to measure customer loyalty and changes in perceived service levels while also boosting referral marketing.
Manufacturers will also be able to understand which customers aren't so happy and begin reaching out to them to understand what could improve their experience.
All survey data is organised in a customised dashboard so manufacturers can collate and analyse how happy their customers are and what improvements are required.
What is an NPS score?
NPS or Net Promoter Score is a method of benchmarking customer satisfaction by understanding how likely customers are to recommend your business to a friend/colleague.
What is a CES score?
CES or Customer Effort Score is a survey that helps organisations measure the ease of customer interaction and resolution during a request.
What is a customer satisfaction survey?
A customer satisfaction (CSAT) survey does what it says on the tin! It's a survey to measure how well products and services meet/exceed customer satisfaction.
Here are some more useful resources on surveys and customer feedback:
Create and conduct customer satisfaction surveys
How to design customer satisfaction surveys that get results
HubSpot helps educate manufacturing customers
We've touched on this point before in this article, but a fair chunk of salespeople's time is often used answering common customer questions. This, together with the fact that today's B2B customers want to self-educate, means HubSpot's knowledge base functionality is an ideal way to increase customer engagement while saving salespeople's time.
Manufacturers can turn their most asked technical/support questions into search engine optimised articles, all held in a single knowledge base. The knowledge base can be customised, branded and organised in a way that suits each business. This allows sales and servicepeople to point customers at helpful articles, increasing productivity levels meaning customers get answers quicker. Plus, it's great for search engines!
What more could you want?
Other helpful information on HubSpot's knowledge base feature.
Creating and managing a knowledge base
What is a knowledge base and why do I need one?
Create and customise knowledge base articles
HubSpot will transform the way manufacturers look at sales and marketing
Hopefully by now, you will have a better insight into the value HubSpot can bring to a manufacturing business at every stage of the buyer's journey. It helps improve productivity, transform processes and introduce positive change between sales, marketing and service teams.
By bringing together the tools of what traditionally would be several pieces of software, your teams now have a single source of truth to work from. That means manufacturers can collate all of this data to create in-depth reports to inform complex business decisions.
Access to these reports can also be restricted and managed, allowing management teams to provide access to certain dashboards if needed.
Marketing reports in HubSpot
Using HubSpot's marketing reports, manufacturers can build a level of accountability into their marketing. The software will tell business leaders how much their blogs, landing pages and emails contribute towards revenue. Reports can also be created to understand the level of traffic the website is generating, where this traffic is coming from and how many new contacts are created from different channels. This provides a complete level of clarity that simply cannot be achieved with siloed data and multiple marketing platforms.
Sales reports in HubSpot
With all sales reps using HubSpot, manufacturers are able to build up an idea of who is most productive, which sequences and templates increase conversions and how long it takes to close deals on average. The HubSpot deal pipeline is also an excellent tool to report on how healthy the sales pipeline is looking and where in the pipeline the revenue sits.
Deal stages can be customised to meet an individual manufacturer's sales funnel and displayed and managed on a board making it easy to see the shape of the sales pipeline and where deals might be getting stuck. It's a fool-proof way of managing deals in one place. Moreover, salespeople can do this from wherever they are using desktop or mobile so it's perfect for remote sales teams.
The information in the deal board can of course, be used to create a variety of sales dashboards which can be completely customised to meet a manufacturer's wants and needs. The below demonstrates an example of a sales dashboard.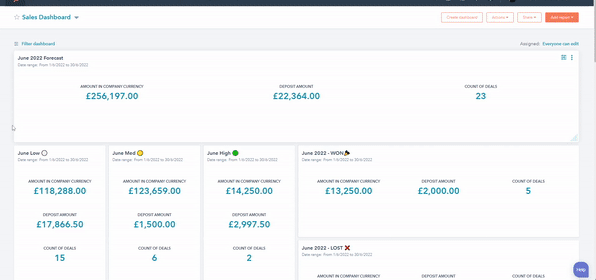 These can be tweaked as and when needed with the shape of the business and its requirements. And better still, there's no need for complicated coding or IT experts!
Service reports in HubSpot
Manufacturers can also report on things like how long it takes to resolve a support case, average NPS score, chat wait time and support ticket volume using HubSpot's reporting tools. This allows business leads to keep a handle on how well clients are being served and where there is room for improvement.
By bringing different elements of customer satisfaction measurement together, manufacturers are able to build up a holistic picture of how satisfied customers are. Sales and marketing are also able to take away actions from this, including how to better sell to clients, how well marketing messaging is received and which clients the sales team should avoid in the short-term.
HubSpot can integrate with manufacturing software
HubSpot is a brilliant tool for creating a more effective sales and marketing process, building a healthy sales pipeline and providing marketing insights. However, there are of course, other areas of a manufacturing business that require software such as production, project management and finance. While HubSpot likely isn't the right fit for these areas, it does integrate with several systems that manufacturers will be familiar with including ERP and MRP systems.
The term 'integration' can often fill business leaders with dread as they imagine expensive consultancy costs, siloed data and software interfaces that simply don't talk to one another.
However, HubSpot has a number of out of the box integrations with systems manufacturers will be familiar with including Odoo, Netsuite, Zoho and Microsoft Dynamics.
Integrating M/ERP and sales and marketing software in this way means manufacturers will get a complete picture of the entire customer relationship without the need for siloed data. As a result, sales, marketing and resourcing will have a much better picture of what's going on, so the lead production and actual production processes can work together like a well-oiled machine!
Why work with a HubSpot Solutions Partner?
HubSpot is an extremely powerful software with many nooks and crannies. While it's incredibly intuitive, it can also become like a wild beast if not used in the right way. Often, manufacturing businesses have one-person or small marketing teams that need to support running HubSpot to ensure they get the best possible results. Any new software requires a period of learning and HubSpot Solutions Partners are qualified specifically to help businesses through that learning curve and beyond.
Not only this, but HubSpot requires a huge amount of set up and management. Manufacturers will likely need help onboarding onto the software, building landing pages, managing campaigns and creating content for those campaigns. Working with a HubSpot Solutions Partner means manufacturers will have access to all the skills it needs to make HubSpot work as hard as possible.
When it comes to investing in HubSpot solutions, manufacturers can be confident that partnering with a HubSpot Solutions Partner such as Intergage will ensure they get the best possible return on their investment. With years of experience in delivering success for manufacturers, Intergage is ideally placed to provide the expertise and support needed to make HubSpot solutions work.
Intergage is a Platinum HubSpot Solutions Partner and 100% focused on the manufacturing sector, meaning we are the ideal fit for any industrial businesses looking to start their HubSpot journey. Want to learn more about our HubSpot services? Take a look here!