Cracking the Code: A HubSpot Guide for Tech Companies
Part of a tech company looking to adopt HubSpot, or get more from your HubSpot investment? Welcome! You're in the right place. This guide covers everything you need to know about HubSpot, and how it can help your tech business grow.
Like any sector, tech companies rely on customer engagement and retention in order to grow as a business. But unlike some sectors, tech is moving at a pace that quickly leaves both software and strategies behind as the landscape changes.
HubSpot offers all-in-one software that provides a scalable solution for organisations facing ever-changing tides. The platform provides a central hub for managing customer relationships, nurturing prospects, and tracking leads from potential to customer.
Being able to provide consistency to customers' brand interactions, in-person, online, or otherwise, is where HubSpot shines. HubSpot's end game is simple: it helps you build a competitive advantage through brand awareness, increased sales, and improved customer loyalty. Of course, this nearly always comes with a heavy dose of new technology and content creation.
Table of contents
Integrating HubSpot into tech stacks
Building customer trust and retaining clients with HubSpot
Using HubSpot to nail content marketing
How HubSpot keeps tech companies data-driven
At a glance: HubSpot's ever-expanding AI offerings
Helping tech companies maximise their ROI with HubSpot Ads
Why work with a HubSpot partner?
HubSpot's Inbound methodology helps tech companies grow
To get the most out of HubSpot, it's important to understand the methodology behind it. Rather than a more traditional "outbound" strategy, where a company approaches prospects in the hopes of turning them into customers, HubSpot's focus is on "inbound marketing". Simply, this is where a potential customer comes "inbound" to your online presence and considers what your product could do for them.
The focus on sell, sell, sell is an idea of the past for HubSpot.
The flywheel, and what it means for you
This simple concept has evolved into a flywheel concept—instead of pouring prospects into the top of a sales funnel and hoping they trickle down; the flywheel is powered by rotational energy. Where funnels lose their momentum when water flows out the bottom, a flywheel can continue indefinitely.
Constant positive energy, spinning the flywheel, creates company growth.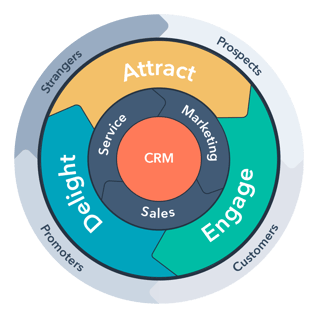 Part of the problem with the tech sector's growth is in its fundraising: raising vast investments but being unable to capitalise on them to build a sustainable business. AKA, everything falls back out the bottom of the funnel and disappears into the ether.
Inbound, then, is customer centric (they prefer it!). In practice, the idea is to make every customer feel important to your business and make the buying process as simple as possible for them.
Ultimately, inbound marketing benefits everyone. For tech companies, the convenience is in the fact everything is digital and measurable.
Flywheel fundamentals
As can be seen from the image above, the flywheel has three main components:
Attract: attracting potential customers through producing helpful content.
Engage: beginning when a customer acts (e.g., reads an article), and starts a relationship, where your company becomes an advisor with the solution to their problem.
Delight: revolves around continuing to provide an outstanding experience every time a prospect or customer interacts with your business.
Good word-of-mouth keeps new prospects entering the flywheel and continues to propel growth. Pretty neat!
To learn more about inbound marketing and its benefits, check out these blog posts:
Inbound Marketing – It's Not Me, It's You
Customer Service Killed the Salesman
Broken Marketing Funnels and the Flywheel Revolution
HubSpot, meet the rest of the tech stack
There are currently over 11,000 business software solutions available on the market—from data management to website CMS, and everything in between. No company is using all 11,000 at once (at least I hope not!), but this statistic shows just how complex it can be for a tech business to configure the right stack for their needs.
After all, stacks are the foundation of everything a company does.
Using HubSpot as a stack replacement
HubSpot's all-in-one approach, split between its five different software hubs, is key to decluttering increasingly unwieldy stack configurations. The hubs, and their key features, are:
Marketing Hub – SEO, social media tools, blog & content creation tools, analytics dashboards
Sales Hub – Advanced CRM, multiple deal pipelines, email sequences, customisable reports
Service Hub – Customer service automation, customer feedback, multiple ticket pipelines
Operations Hub – Programmable automation, datasets, team management and permissions
CMS (Content Management System) Hub – Live chat, dynamic content, security monitoring & threat detection
All these Hubs interact seamlessly with the MVP: HubSpot's CRM (Customer Relationship Management) system. This is where all your data lives, where leads are defined, and where pipelines begin and end. Each Hub uses the information from the CRM, meaning everything is synced and secure.
The Hubs have more features than I can cover here, but you can start to see where they come together and interact. Since they work together seamlessly within HubSpot, an all-in-one solution can often replace several different programmes all at once.
Indeed, HubSpot enables teams to be able to interact not only with each other, but to see exactly where they are. For instance, the marketing team handing leads over to the sales team can look at the sales dashboard to see if those leads have closed and become clients.
And on a human level, it's nice to only need to remember one password.
Integrating HubSpot into your existing stack
If there are programmes which a tech company decides it simply cannot live without, HubSpot doesn't become useless. In fact, the complete opposite is often true.
With a marketplace of over a thousand possible integrations, where HubSpot can sync with other programmes in a stack, there are solutions for nearly every aspect of the flywheel. HubSpot's Operations Hub, for instance, enables syncing of contacts between programmes among other automation and reporting tools. Integrating accounting or business tools, such as Sage or Microsoft Dynamics, provides greater dexterity for a tech company's stack without over-complicating it. Key B2B offerings are at your fingertips.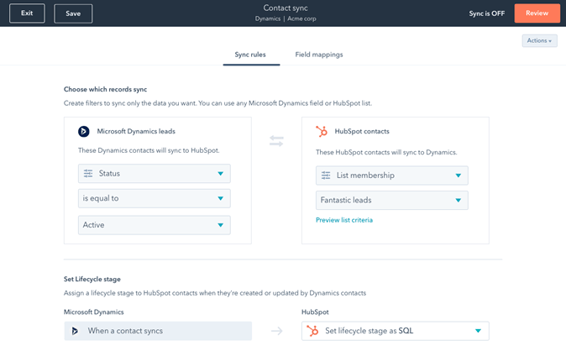 In this stack configuration, HubSpot becomes the foundation, with any dedicated software syncing into it, rather than ending up with distinctly separate systems for every process.
Building customer trust and loyalty using HubSpot
Part of the problem in the crowded tech sector is effectively managing customer relationships, and thus losing out to competitors. With competition growing fiercer by the day, companies need to adopt strategies that not only attract new customers but also ensure their existing ones stay engaged and loyal. Statistics show that 67% of returning customers spend more in their third year of buying from a business than in their first six months; building loyalty and trust are crucial to any tech company wishing to build sustainable revenue.
Storing customer data in HubSpot
HubSpot's key offering of a dedicated CRM enables companies to track interactions, manage deals and pipelines, and nurture relationships throughout the customer lifecycle. Through the centralisation of neatly organised customer data, gaining an overview of where sales teams stand is a simple task.
Often, customers' data is collected from multiple sources at multiple touchpoints, which is a nightmare for ensuring that it is subsequently saved somewhere everyone can easily access it. HubSpot's clutter-free approach to data presentation means that it's easy enough to track tasks in the customer's lifecycle, access contact information, and see previous interactions.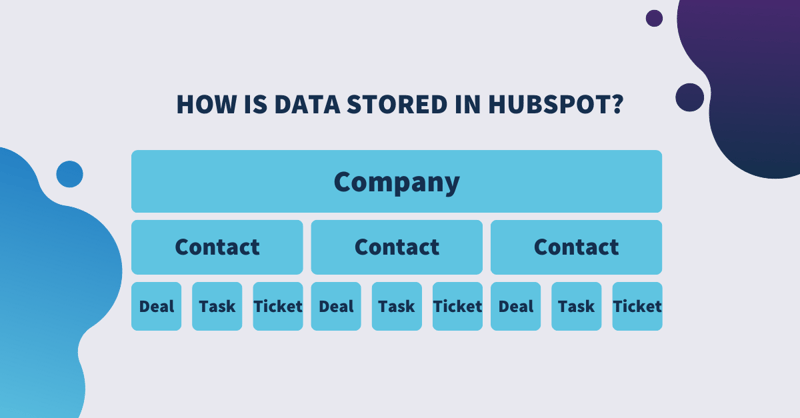 This enables a comprehensive look at a contact's data in relation to the deals they are part of, and their position relative to the company they work for.
In a world where tech companies are easily bogged down by spreadsheet upon spreadsheet, HubSpot provides a straightforward CRM that enables you to see how your company and clients are interacting at a glance.
Targeting tech ICPs with data segmentation
Data segmentation is crucial for tech companies' customer retention.
Once customers' data is in one place, HubSpot enables tech companies to easily target prospects and pre-existing customers, at the same or different times, through segmentation.
Different types of segmentation are useful at different times, but the idea is broadly the same: splitting contacts up so they receive the information most relevant to them and/or their business.
Why? Because different audiences require different types of communication.
For example, a quarterly update email targeted at investors would be useless to an early-stage lead. Equally, a preexisting customer is unlikely to enjoy receiving a surface-level "who we are" newsletter—they already know who you are. After all, they're paying you.
The benefits of tailoring communications for individuals are plentiful. In raw numbers, segmented campaigns can lead to a 760% increase in revenue.
Once you know which audiences you're targeting, you can group contacts with significant similarities, enabling customisation which is simultaneously scalable.
HubSpot allows automated list creation through attributes such as job title, company size, or whether someone has submitted a form on your website, all elements than can be used to personalise the information being sent out to contacts.
Retaining customers with Service Hub
Sales and marketing initiate relationships, but service is where they flourish.
One of five hubs within HubSpot, the Service Hub is built specifically for companies' customer service. With essential features necessary for managing customer queries, issues, and questions, the service hub enables tech companies to take control of their customer relationships whilst working efficiently and effectively.
Customer feedback is a keyway to keep tech companies out of the dark on their customer service, and product/service offering. In a world where 53% of buyers believe their feedback doesn't reach decision-makers (Microsoft), keeping your finger on the pulse of customer experience makes the difference between good and great customer service.
Through Service Hub's multiple tools, tech companies can control how and when they receive key pieces of customer feedback. The most conventional of these is customer surveys, which can be created and sent through HubSpot, and enable companies to assess their NPS (Net Promoter Score), CES (Customer Effort Score), and CSAT (Customer Satisfaction).
Receiving feedback like this, organised in a custom dashboard, enables tech companies to see what issues customers may have, and develop strategies to rectify problems.
Delighting customers with chatbots
Gone are the days of generic customer interactions and long-winded automated phone calls. HubSpot's chatbot functionality is designed to make customer service easier for both companies and customers, helping to answer common questions from prospects.
Crucially, unlike humans, chatbots are available 24/7; no query goes unanswered, and no lead is left to go cold. With 90% of customers rating an "immediate" response as important when they have a customer service question (HubSpot), the versatility of around-the-clock responses is priceless.
The word "bot" often conjures images of complex code and mathematics. But the reality is much simpler: building a chatbot in HubSpot is more akin to creating a workflow than it is coding NASA's next trip to the moon. The bot builder has more options than can be covered here, but bots can include personalisation, data collection such as email addresses, and the ability to transfer through to a real human using live chat.
We have our own chat bot, which directs users to Alex, our Marketing Director. Once a visitor to our website has entered their name and email address, she can begin chatting with them if it's during our opening hours.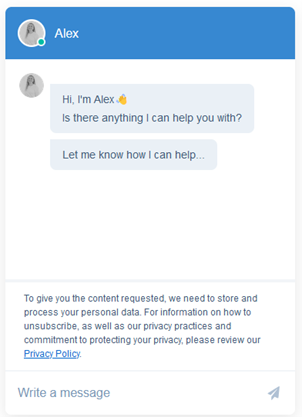 Say they needed to speak to a member of sales, the customer could easily be reassigned to a member of our sales team. All without waiting on hold.
All chat history is also stored within the inbox on HubSpot and can even be automatically sent to customers for their own records. Keeping track of communications, which can easily get out-of-hand, is thus simplified.
Chatbots, and live chat, meld the convenience of emailing with the instant replies of telephone calls of old. Ultimately, it gives tech companies with the opportunity to provide targeted customer service without breaking the bank.
Managing tickets through HubSpot Help Desk
But what if your customer has a problem?
It's all well and good segmenting their data and having a chatbot for them to interact with, but some problems need to be solved by a living, breathing human. HubSpot's help desk is a one-stop-shop for all things customer service. Nothing delights customers like having their problems resolved quickly and satisfactorily.
What helps tech companies keep track of customer problems? A ticketing system.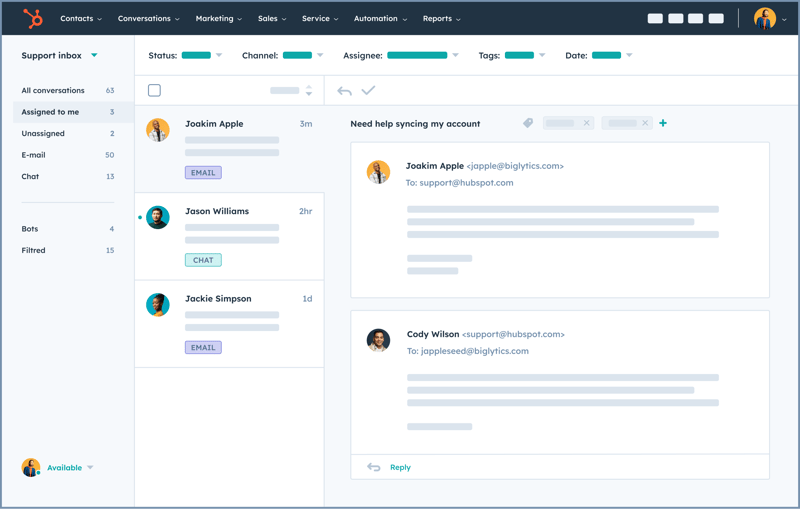 Image: HubSpot
Within HubSpot, you can set up ticket pipelines so you can differentiate between the stages or statuses a ticket goes through—from logging to completion.
Not only does this streamline your processes, meaning every service agent is playing to the same tune, but these pipelines can be automated. For instance, a ticket can change from "waiting on contact" to "waiting on us" when an email is replied to by a customer.
Say there's a ticket that needs to be dealt with by a member of the dev team, but it's currently assigned to the marketing team. HubSpot enables easy ticket redirection, ensuring that tickets can be easily brought to the attention of those with the skills to solve a customer's problems, and then close the ticket entirely.
Ticketing is another example of the delight stage of the inbound model. Hyper-personalised experiences not only enhance customer satisfaction but also strengthen the emotional connection between your tech company and your customers.
Ensuring you're solving problems for your customers in a timely manner is fundamental to retaining their trust, loyalty and, ultimately, their business.
Using HubSpot to nail content marketing
Whilst the name can be scary, content marketing is simple in concept: producing enticing "content" (be it on your blog or social media platforms) that directs potential consumers to a tech company's website.
The hope is they'll stick around to consume more content, and eventually become a customer.
Which types of content marketing are used depends on a company's target markets, and their brand identity. However, the two common types are blogging and social media. Both can be organic and personable whilst helping your company reach more potential customers; especially search engines now prioritise content aimed at humans, rather than content aimed at search engines.
Nowadays, cramming key words into a blog post no longer cuts the mustard—ideal content is eye-catching, engaging, and interesting. Though >50% of marketers are using AI in their content creation, consumers still want the content they consume to be engaging and, fundamentally, human. Balancing working smart and still coming across as human is crucial.
Building blogs with HubSpot
Now's the time to draw your attention to the fact you are reading this post on Intergage's blog. Congratulations, you're part of our flywheel! How meta.
If you've got this far, you might find this "HubSpot for Tech" guide engaging and, crucially, helpful.
That's at the core of blog-based content marketing: creating written content that engages and helps prospects to see who you are and what you're about. Writing blog posts that seek to answer a question or solve a problem that your readers have enables companies to build trust between themselves and their users.
HubSpot's Marketing Hub allows companies to add blogs to their HubSpot-based websites, update them from within the software, and track their metrics and SEO performance.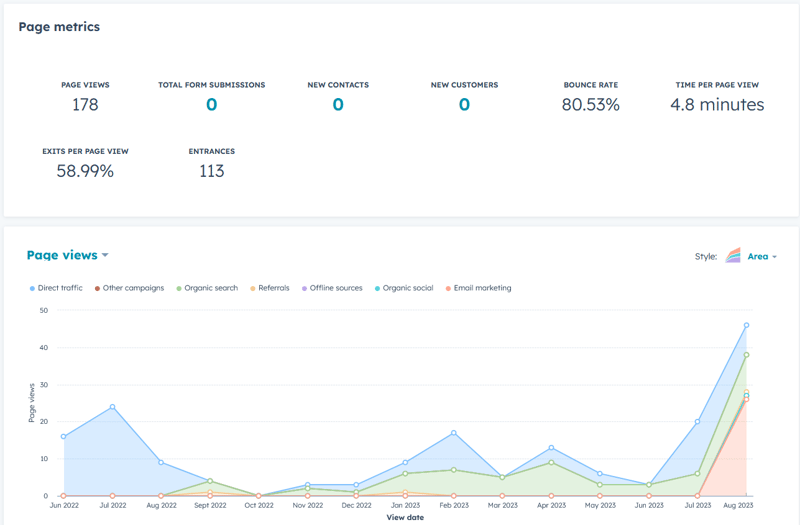 Creating and publishing engaging content is no longer only happening in the walled kingdom of HTML and CSS wizards. True to HubSpot's dedication to ease-of-use, a rich text post editor simplifies the process of publishing content to reach new prospects and, eventually, generating more leads.
Social media management made simple
You might be familiar with Ryanair's social media presence, often wittily replying to customers on X (formerly known as Twitter) and TikTok to the tune of tens of thousands of likes. Such traction isn't the norm for most companies, but it's a hyperbolic example of how content marketing works: remembering that funny tweet about Harry Kane will remind you of Ryanair next time you're booking a flight.
Challenges of content marketing on social media, especially for busy tech companies, can be as simple as not having the time to ensure a consistent socials presence is maintained. For some platforms—though algorithms are ever-changing—this aids the awareness of the account to prospect viewers.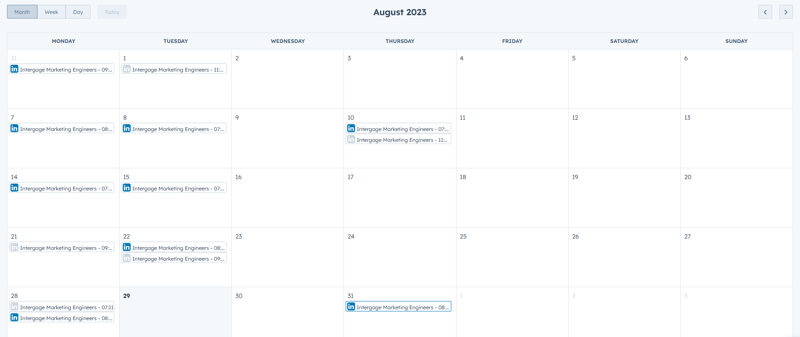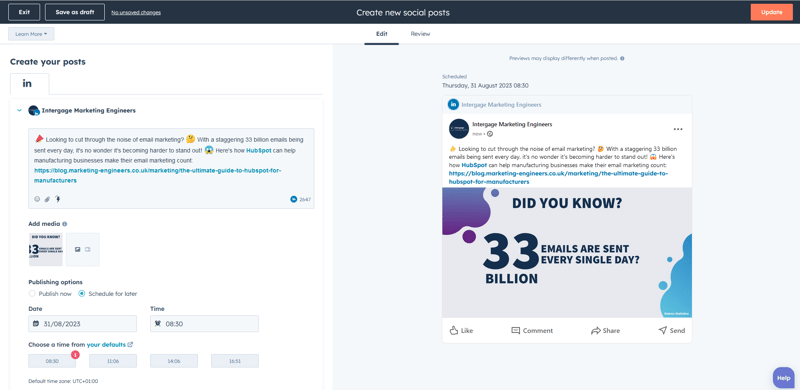 HubSpot provides an easily understood calendar through which tech companies can ensure their social media posts are scheduled at times suited for peak engagement, as well as mock-ups when creating posts.
When posts go live, returning to the "monitor" section of the socials tab in Marketing Hub enables you to see which posts were engaged with, and whether HubSpot's tracked any clicks through any attached links. This is neatly organised into an inbox sorted by interaction type: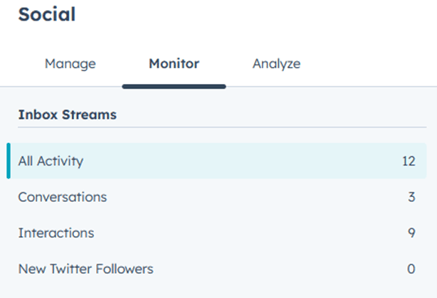 Equally, there's a section where it's possible to compare social posts. Being able to see such a clear comparison—from campaign, to clicks, interactions, impressions and comments—means seeing how posts are doing over time is quick and painless.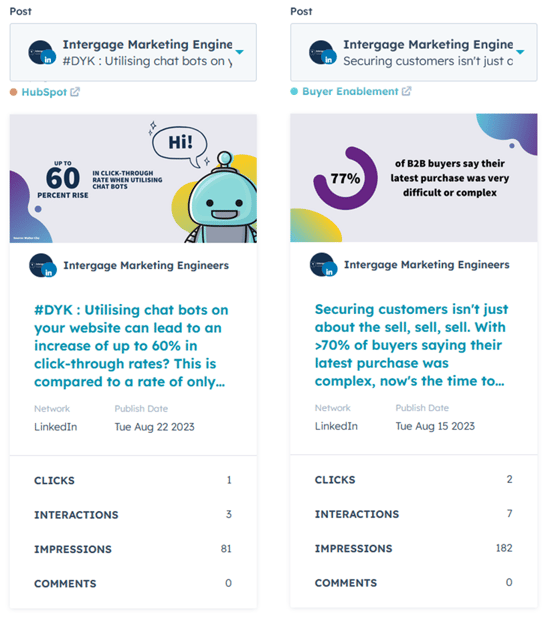 Unfortunately, my little AI bot doesn't seen to have been as captivating as a statistic on the increasingly buyer-centric buying journey. I won't tell him, lest I hurt his feelings.
How to Promote the Living Daylights Out of Your Content
7 Steps to a Content Creation Framework
10 Benefits of Consistent, High-Quality Content Marketing
The Ultimate Guide to Content Creation
How reporting means HubSpot keeps tech comapnies data-driven
Nearly every company is making decision based on their data. That is, simply, good business.
But where the data itself is located, and how it's formatted, can overcomplicate an already challenging data analysis process. This is where dashboards and reports come in handy. With HubSpot, they are almost infinitely customisable to tech companies' needs.
As is already apparent, integration is one of HubSpot's priorities. One of the key advantages of their reporting features is data consolidation from multiple sources. Tech companies can integrate data from their website, social media platforms, email campaigns, and more in order to collate an overview of present trends.
Building reports in HubSpot enables specific focus on key metrics, such as sale revenue by source, or email click-through rate per month. These become the backbone of building dashboards.
After all, a consolidated view of company data enables deeper analysis, and a better understanding of overall performance.
HubSpot dashboards, in their simplest form, are a display of multiple reports. The data helps users to monitor performance of the business, or on a more molecular level—such as marketing lead generation or sales' closing rate.
This means that in a sales dashboard you can add KPIs for each individual member of the sales team, as well as at a team-wide level. The individual progress informs the overall progress, so seeing them in one dashboard enables trend identification and noting areas which requirement improvement.
Dashboard customisability in HubSpot provides a way for tech companies' reporting to reflect how their business works—a monthly dashboard can be created to reflect monthly meetings.
Our favourite reports
HubSpot comes with several different reports off the shelf, but its abilities really shine when it comes to building custom reports. After all, the reality is that no two businesses need identical data reporting.
To show you what HubSpot can do, here are a couple of our favourite custom reports here at Intergage.
Which sources are generating new contacts?
Report name: Contact created totals by source
This report shows tech companies which channels their new contacts and leads are coming from. This helps tech companies understand which channels are driving the most new contacts, and which channels are driving good/poor quality contacts.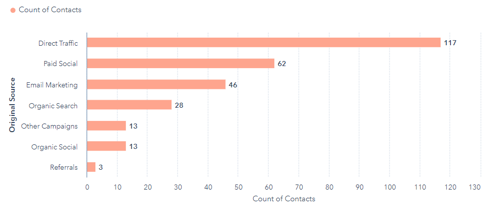 Are there trends in traffic and contact acquisition?
Report name: Deal average time spent in each stage
This report gives tech companies a great snapshot of how long it takes deals to work through the pipeline and where they may be getting stuck. Understanding this data helps to see where to focus efforts or manpower.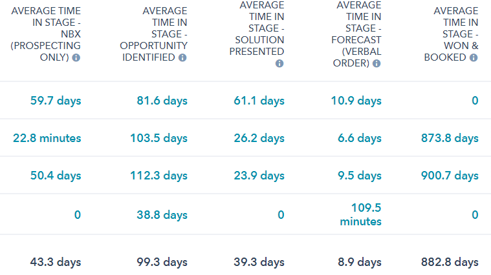 How close are we to meeting our sales target?
Report name: Deal closed totals vs. goal
An ideal visual representation of the distance between tech companies' revenue goals and targets at any point in the month. Adjusting the timeline allows for weekly or quarterly insights.

What are we selling most of?
Report name: Deal revenue by stage with type breakdown.
Another snapshot report which shows simple but important data: what your tech company is selling, and how much revenue it's bringing in. Great for resource planning, but also so you can focus efforts on certain products.
This is only a selection of the variety of reports you can make in HubSpot, but they demonstrate the endless customisation available through reporting.
It's not what you can do about your data, but what your data can do for you!
HubSpot's ever-expaning AI offerings make life easier
AI is everyone's new favourite tool, both in marketing and tech. It's a bit like giving a child a new puppy. But whilst many tout its potential for content creation, HubSpot's integrated AI tools provide tangible solutions for scaling your content output in a sustainable way. After all, growth is at its best when it's in tandem with scalability, lest your workforce become spread too thin to sufficiently respond to customer's queries and needs. This has very real knock-on effects for long-term customer relationships—a neglected client is an unhappy client.
Utilising AI, both in HubSpot and elsewhere, has some real benefits, such as:
Speeding up both long- and short-form content creation,
Fewer errors—ChatGPT knows the difference between "your" and "you're", and
24/7 uptime.
HubSpot's AI Roadmap (last updated in June) provides an overview of the AI tech they hope to release before the end of 2023: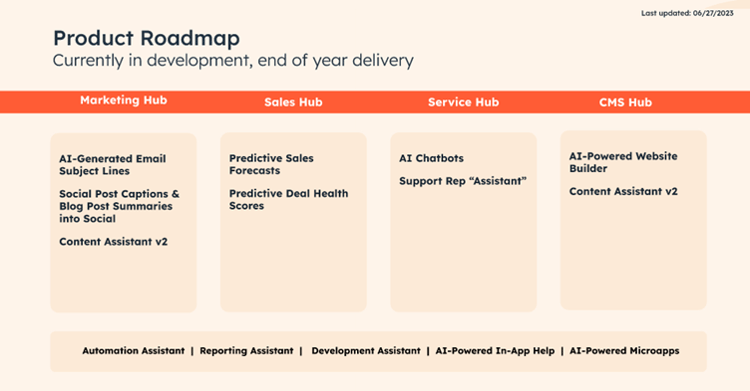 Image: HubSpot
Curate copy with Content Assistant
The first in HubSpot's series of AI assistants and in public Beta, the content assistant's job is to help curate good copy across both your website and social media platforms. When things are busy, these can be the first areas to face neglect, so content assistant keeps things simple, so you can curate posts in quiet moments.
Its functionality is really simple: opening up the assistant, it asks for a prompt. All you need to do is describe your post and allow the AI to generate the post's written content, including hashtags. The example below was a vague prompt, but it still returned a catchy, emoji-laden post about a new product, including hashtags.
All you need to do is insert it, and edit it for length—still much quicker than writing a post from scratch!
Not happy? Just generate it again.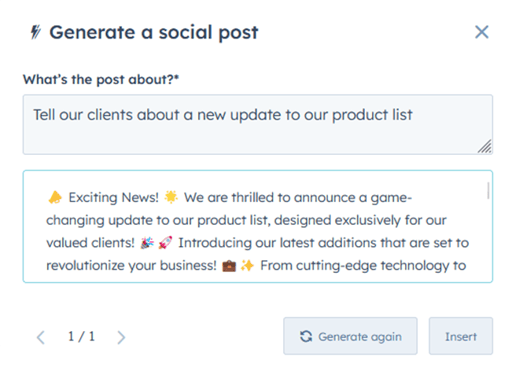 Equally, the content assistant can be used in tandem with HubSpot's Blog Idea Generator, enabling you to ensure your tech company is creating relevant content through submitted nouns. Taking some of the thinking out of developing ideas provides more time to generate, and then edit, your content.
Smash your SEO
Ranking high in search is fundamental for any tech company. The sector is crowded, paid ads are everywhere, and market share decreases with every new entrant. SEO is the cornerstone of marking your territory on those all-important search rankings. It's also intimidating—talk of keyword stuffing and constant optimisation are daunting without the right tools to start.
Powered by AI, HubSpot's SEO optimisation tool enables user-friendly SEO editing through flagging issues and ranking them in two metrics: difficulty and impact. Here's a look at how this is shown by HubSpot: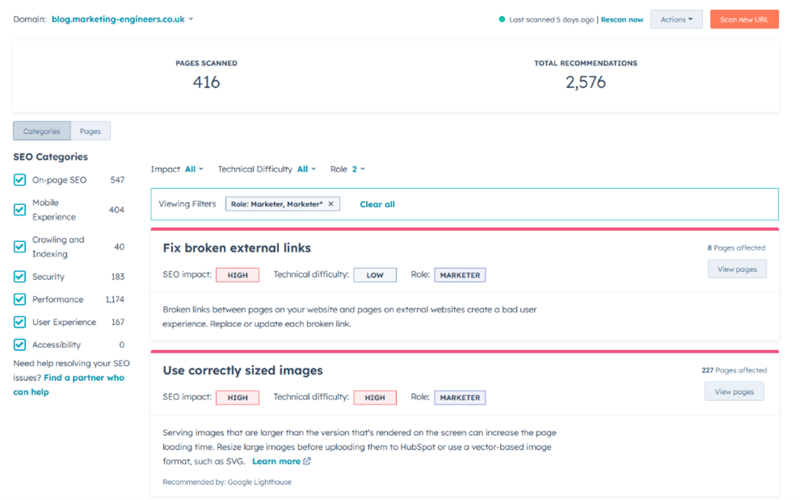 Enabling both a broad overview and then smaller, narrower focus on issues on each page, the HubSpot SEO tool provides the bigger picture but enables easy-fixing to those issues that need your focus. After all, SEO recommendations do add up.
Whilst it can be overwhelming, HubSpot ensures that your tech company knows where they stand before the problem gets out of control.
Want to know more? Download our 20-day SEO guide.
But bear in mind!
It's easy to get caught up in the excitement of AI, but it's important to produce content your ICPs find interesting and engaging. Learn more about humanising your AI output through five tips from Gemma, our Senior Content Creation Manager! At the end of the day, your tech company is dealing with people.
HubSpot's own blog has some great resources about AI:
Automatically Populate Contacts with HubSpot AI
Generate content with Content Assistant (BETA)
Maximising tech companies' ROI with HubSpot's Ad Manager
In the ever-crowded tech sector, most companies' aims are to grow turnover, and eventually profit. Optimising ROI is imperative to this—overspending in one area causes underspending in another, and suddenly budgets are falling like dominoes.
Tech companies typically allocate an average percentage of turnover to advertising (~12.05%), but a less-than-average percentage to marketing (~8.61%), according to HowToSaas. In an ideal world, you want that money to do as much for your business as possible. Thankfully, HubSpot's robust suite of ad management tools equip tech companies with the necessary resources to fine-tune their ad campaigns and extract as much ROI as possible.
So where does HubSpot come in?
HubSpot Ads enables you to see which contacts have engaged with which of your ads. Not only does this mean tech companies can see which ads are turning prospects into leads, but it also feedbacks on your segmentation and ad relevancy. If these are successful, the people you want to engage with your ads will be doing so.

This doesn't mean HubSpot Ads is simply an expansion of their reporting tools.
Tech companies can create lists and workflows which trigger based on who is interacting with their ads. Since this indicates what they're interested in, you can get even deeper into segmentation and lead nurturing to present people with targeted and relevant content, continuing to delight your visitors. That's what keeps the flywheel spinning.
Right now, HubSpot Ads supports connections with Google, LinkedIn and Facebook Ads. Once connected, it's possible to set budgets, turn campaigns on and off, and set ad durations.
The beauty of it? Tech companies can even automate HubSpot to email them whenever a lead is generated. No more logging into each platform to check statistics.
Get the most out of your HubSpot investment with a HubSpot Solutions Partner
Tech companies recognise HubSpot's power, but its learning curve can be steep. Not unlike an iceberg, much more lurks beneath the surface than is first apparent. For many, this is understandably daunting. This is where a HubSpot Solutions Partner, such as Intergage, can step in to provide the support tech companies need to get HubSpot working the way you need it to.
From initial onboarding to the execution of impactful campaigns, getting to grips with HubSpot requires time, resources, and expertise. Navigating this terrain alone often leads to inefficiencies and missed opportunities.
A Solutions Partner offers the following services, ensuring that HubSpot works as hard as it can for companies with as little stress as possible. Tech companies can get their CRM up and running quickly, with expertise advise, and can still focus on innovation and growth.
When delving into investments related to HubSpot solutions, tech companies can have full confidence that aligning with a HubSpot Solutions Partner such as Intergage will guarantee the highest possible returns on their investment. Drawing upon years of experience marketing on behalf of numerous industry players, Intergage is perfectly equipped to offer the necessary proficiency and backing to effectively implement and leverage HubSpot.
Intergage holds the distinction of being a Platinum HubSpot Solutions Partner with an exclusive focus on the tech sector, positioning us as the optimal choice for any tech-oriented businesses initiating their journey with HubSpot.
Interested in learning more about our HubSpot services? Discover them here!